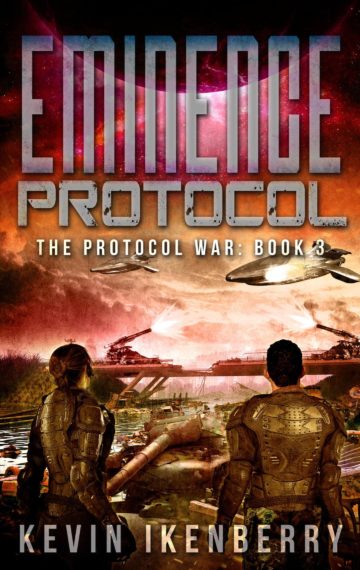 $4.99
Buy Now
See The Reviews
See The Full Series
Available in:

Kindle, Kindle Unlimited, Print

Pages:

398

Published:

November 8, 2022
The line between man and machine no longer exists.
Through grief and loss, Kieran Roark is finally ready to do what he was brought back to do. Reaction Squadron One is called to defend the allied Styrahi against a threat in the Outer Rim. Roark's squad of exospheric aircraft, paired with a human regiment of armor under the command of his friend Colonel Quinn Whelan, arrives at Carantan to set their defense along with a regiment of Styrahi infantry. Roark believes everything is ready…
On Earth, all hell has broken loose. An incursion into the private files of deceased Council Chairwoman Penelope Neige sets off a firestorm. The Prelate is threatened, and a young council candidate is the first to lose herself to Neige's protocol, who has one goal: vengeance. Her target? General Adam Crowley.
But Crawley has a plan. On the brink of combat, Kieran is ordered home. Lieutenant Commander Ayumi Nakamura, the first completely integrated protocol/human, takes charge of the defense of Carantan as Kieran learns how far a long-dead enemy is willing to go to destroy everything and everyone tied to the sleeper program.
With familiar friends facing new, shocking enemies, the struggle for Earth's future begins.